About my Anatolian Shepherd Dogs
***** NEWS FLASH! ******  
There are two litters of Comarkaan pups on the ground right now (Nov 2017) and available for sale. 
Details are below.
Home of fully imported Mert Birinci Panter Kangal (Imp Poland), fully imported Vadi Hugo Night Prowler (Imp NZ), my late foundation stud dog, Takas Fate, Australian Champion bitch Cappadocia Jon D'Arc (now deceased) and Australian Champion bitch Takas Mindis Storm.
I am also involved in the  importation of new lines from Eastern Europe via frozen semen.
Comarkaan Kennels places great emphasis on size, coupled with athletic ability and correct temperament.
I enjoy conformation showing and obedience work with my dogs but the dogs themselves are happiest when with me, and then their poultry and horses!
I have no puppies available currently, however, there are two new breeders in NSW and Victoria who have my bloodlines who have both produced litters in 2017.
In NSW, concentrating on sound working dog lines:
11 Puppies were born in early September 2017 from Vadi Hugo Night Prowler to Comarkaan Sashandra, 8 of which are rare stunning pintos, and all females!   These pups have been raised from birth with baby goats and are particularly suited to working homes and hobby farmers.   Photos of the pinto pups are below.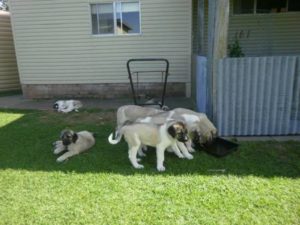 In Victoria, concentrating on working dog/family dog lines:
Kyilladoon Kennels have produced 8 fawn and black masked pups in October from Comarkaan Yatsi (winner of Best in Show Anatolian Specialty Show 2016 under an International Judge).   Kyilladoon and are taking Expressions of Interest for these pups right now.   Contact details are on their website above.
From time to time there are adult dogs available for rehome.  To check if anything is available, click here.
Please feel free to contact me for information about this breed on via the contacts page or ring me  0427 178 676.